Theme: "Nihonshu"
The second theme: 'Nihonshu.' Bob and his good friend and drinking veteran, Tetsu-san explore the world of Nihonshu (or Japanese sake) in Osaka. This time we take a step away from the Osaka city area to a quiet neighboring city in the prefecture called Takatsuki, which also has local brewery… How many drinks can Bob take before he falls over?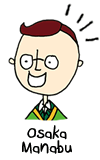 Nihonshu's historical mecca; Osaka.
Did ya know that Nihonshu (Japanese sake) is the representative drink of Japan? A lotta people don't know, but historically speaking eh, Osaka used to play a central role in brewing Nihonshu. In the north part of Osaka, the Itami and Ikeda areas used to be a brewing mecca. More so than other sake, Itami-sake and Ikeda-sake had a higher price! In 1740, Nihonshu from the Ikeda brewery "Kenbishi" was appointed the official drink of the Shogun's table. Not bad, eh? Nihonshu made in Kamigata (now Osaka in the Kansai region) and sold in Edo (now Tokyo) was called "Kudarizake" and gained a lotta popularity, ya know.
*Osaka Manabu*
Staff member at "Cafe de Osaka." Loves Osaka more than anything.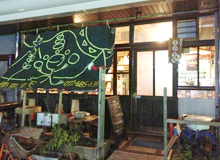 【Location 1&3】
Nanpurakuten (in cooperation)
A laid-back restaurant in Takatsuki city, often full of chatty locals. Nanpurakuten is owned and run by Osaka Bob's good friend and veteran Nihonshu drinker, Tetsu-san. Enjoy a range of Japanese food and drink at a reasonable price. 5 minutes from JR Takatsuki Station on foot.
Osaka-fu, Takatsuki-shi, Takatsuki-cho 1-23 | 12:00noon - 22:00 (about). Irregular holidays (Check website before visiting).
http://www.h3.dion.ne.jp/~nampu00/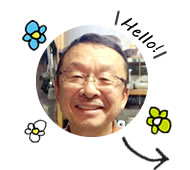 【Guest】
Tetsu Makino
Owner and manager of Nanpurakuten, a restaurant in Takatsuki popular with the locals. World traveller, marathon runner and veteran drinker, Tetsu is always trying to introduce people to the wide selection of drinks he has available.
【Nanpurakuten's Website】http://www.h3.dion.ne.jp/~nampu00/
【Music】
Music by Umineco